The WW2 Garand M1 Rifle guide
You will find on this page a guide to help collectors to :
- determine at the time of purchase if the Garand offered is an authentic WW2 Garand rifle, a reconditioned, a post-war and even a faked one.
- to refurbish modified Garands and thus have a coherent WW2 weapon.
Our only goal is to give the necessary knowledge base to collectors for them to be able to find their way, nothing more.

How to date a Garand rifle ?
First of all, it should be known that the Garands manufactured during the Second World War were made by Springfield Armory and the Winchester Repeating Arms Company
Harrington & Richardson Arms and Internatinal Harvester Company manufactured the Garand after 1945.
Total production for the war period is 4,040,800 units, broken down as follows:
. 3,526,922 for Springfield Armory,
. 513,880 for the Winchester Repeating Arms Company
Serial number of WW2 Garand rifles
Here is the summary table of the serial number ranges affected until 1945 for 'Springfield' and 'Winchester Repeating Arms Company Garand rifles.
Summary of Garand rifle serial numbers assigned during the period 1940-1945
WW2 Garand rifle serian numbers :
| | | | |
| --- | --- | --- | --- |
| From | To | Manufacter | End of contract |
| 1 | 100,000 | Springfield Armory | December 1940 |
| 100,001 | 165,500 | Winchester | May 1942 |
| 165,501 | 865,500 | Springfield Armory | September 1942 |
| 865,501 | 1,199,999 | Springfield Armory | February 1943 |
| 1,200,000 | 1,261,260 | Winchester | November 1942 |
| 1,261,261 | 1,357,473 | Winchester | July 1943 |
| 1,357,474 | 1,387,XXX | Winchester (1) | August 1943 ? |
| 1,357,474 | 2,305,849 | Springfield Armory | December 1943 |
| 2.305.850 | 2,655,982 | Winchester (2) | January 1944 |
| 2,656,149 | 4,100,000 | Springfield Armory (3) | October 1945 |
Notes :
(1) Serial number in duplicate with Springfield numbers (approx. 30,000 copies)
(2) Actual serial numbers assigned up to 2,540,000
(3) Actual serial numbers assigned up to 3,889.xxx (actual number not known)
Parts of the M1 Garand rifle
Now that we have a serial number for your Garand, we will see which are the good elements that must constitute this one.
Indeed, it is not uncommon for weapons that have been reintegrated after the war to have undergone a number of modifications that distort them. I am not talking about weapons that have been tampered with to make people believe that "It's an original WW2 Garand".
It is true that if your Garand is 100% Winchester parts (WRA marked), you are lucky. It is still rare, especially nowadays.
Here are some schematics presenting the main parts of the Garand rifle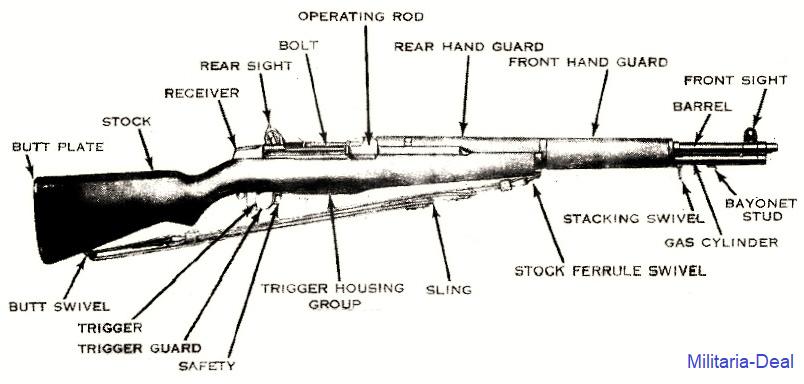 Garand rifle markings, drawing numbers and revision numbers.
Theoretically, all the parts of your Garand must have a manufacturer's marking (except the very small ones).
This is called the Drawing Number and the Revision Number.
Here are some examples of parts and their drawing numbers from World War II.

It should be noted that according to this number and its revision, we can know when the part was manufactured.
What we will retain (but it is an approximation) is that the numbering system evolved after the war. We pass from this type of numbering: D28287-12 SA to this one : D6528287 IHC. So if the number is D65XXXXXXX, it is a post-war Garand.

List of Garand rifle manufacturer abbreviations
Here is the list of abbreviations of US manufacturers:
WRA for Winchester Repeating Arms,
SA for Springfield Armory,
HRA for Harrington & Richardson Arms,
IHC for International Harvester Company.
It should be noted that many NATO countries manufactured Garand after the war. So be suspicious about spare parts.
Here is a recapitulation of the nomenclature numbers of the parts of Le Garand.
Drawing number of M1 Garand rifles
Each part of the Garand Rifle have specific drawing numbers. To check if your Garand has original drawing numbers, please check this table: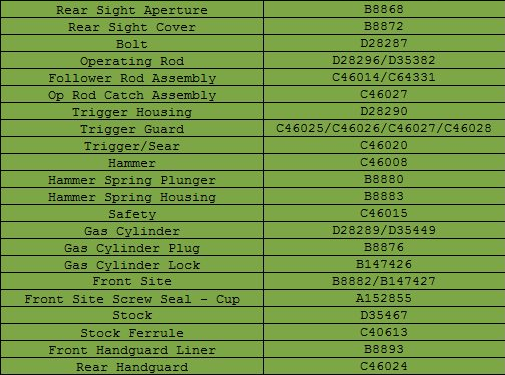 Focus on key WW2 Garand rifle parts
The Garand rifle receiver
The name of the manufacturer and the serial number are on it. Here are the types of markings you should find on SA and WRA receivers :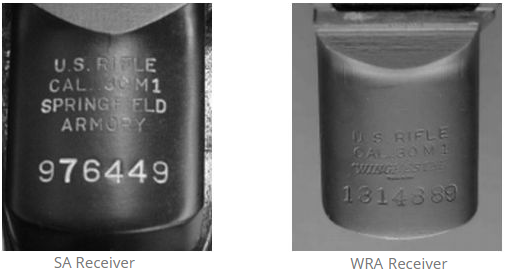 Garand rifle barrel markings
Garand barrels are marked and dated. For Springfield Garands, it's simple, there is the date. But for the Winchester's, it's a WRA XXXXX reference (partially visible, because hidden by the handguard).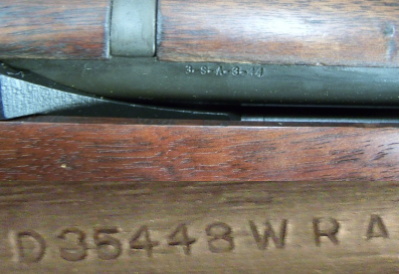 Garand rifle rear sight types
There are 3 types of Garand Rifle rear-sights : the "flush-nut", the "lock-bar" and a post-war rear sight :
Garand rifle stock markings
Like all the other parts of the US Army Garand, the wooden parts have undergone many modifications. It has been listed about 14 stock variants.
Some peculiarities are still clearly visible, such as the length of the barrel channel, the shape of the grip and the shape of the lock housing.
It is still possible to determine the production date based on the markings that have been affixed by the Ordnance Corp. inspectors.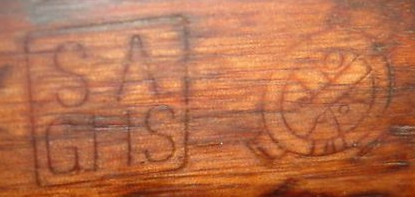 An example of a Springfield Armory cross marking
Here is the list of markings affixed on the stocks until 1945 :
- Springfield Armory Garand markings :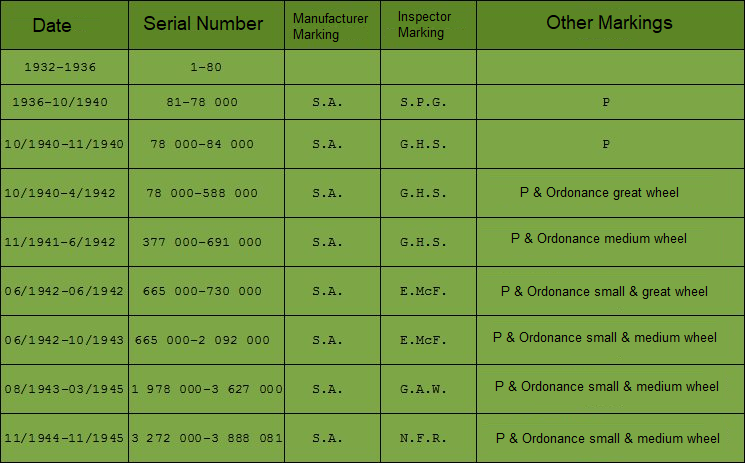 - Winchester Garand markings :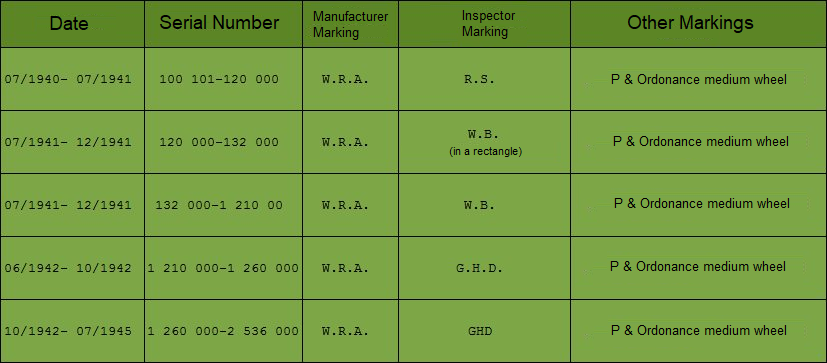 We hope that this guide will have been useful to you to check if your Garand rifle is indeed a WW2 rifle. It is more and more difficult to find complete originals nowadays.
Good books about the M1 Garand:
If you are interested in Garand M1 carbines, I warmly recommend Jim Thompson's book : "Essential M1 Garand: A Practical and Historical Guide for Shooters and Collectors". This book is a mine of information on the Garands of WW2 and the Vietnam War. Indispensable if you want to know everything there is to know about the Garands.
Another good book recommendation is "The M1 Garand Owner's Guide", written by S.A. Duff. A lot of useful Information for ANY M1 owner. Well-written, excellent illustrations, a must-have!
These 2 books are "must-have" if you like M1 Garand !