Ukrainian militaria for collectors
Discover our daily selection of interesting Ukrainian militaria items for collectors.
Recent and vintage Ukrainian militaria, from WW2 as well as from the recent war between Russia and Ukraine.
A selection of militaria items from Ukraine
You will find on this page various Ukrainian militaria artefacts from various Ukrainian wars : Crimea war, Donbas conflict, war between Russia and Ukraine in 2022, WW1 and WW2. You will find some Ukrainian medals and badges from various battalions, some Ukrainian military airborne patches and some vintage pictures of Ukrainian soldiers in the second world war. You will also see some interesting Victorian Crimea war medals listed on this page.
RARE UKRAINIAN MILITARIA ITEMS FOR COLLECTORS :

The invasion of Ukraine by Russia in March 2022 has put Ukrainian militaria back in the spotlight and it is increasingly sought after by collectors. Some want to find a Ukrainian badge or insignia to show their support for the Ukrainian resistance. Others are looking for rare Ukrainian militaria items to add to their collection.
The bravery of Ukrainian fighters in the face of invasion has made Ukrainian militaria items very popular.
Militaria from Ukraine : some examples
Our selection of Ukrainian militaria will be daily updated, but these are examples of what you may find here. You could find on this page a genuine 1855 Turkish Crimea medal around $150 or a WW1 Ukraine Sterling Silver Coin 1915 around $100. With a lower budget, you will be interested by a Ukrainian Azov Sea Key Chain. These Ukrainian militaria artefacts can be part of our famous Top 100 Militaria Auctions where you can find the most interesting militaria items available on the web.
Ukraine War relics for collectors
You will of course find here a lot of Ukraine war relics like some Su-25 Sukhoi fuselage with number part from the Russo-Ukrainian war, some Ka-52 Alligator Attack Helicopter fuselage parts, some ratnik uniforms from Russian invadors and other Ukraine war souvenirs. These Ukraine war items are offered by Ukrainian militaria sellers who collect these militaria items and sell them online. Purchasing these items is a way to support the Ukrainian civilians in these difficult days.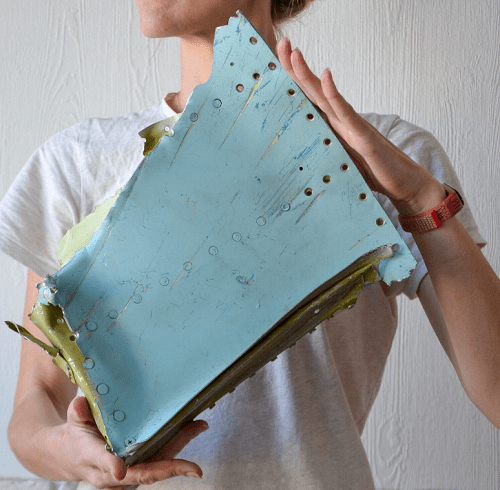 A Su-25 Sukhoi fuselage part from the Russo-Ukrainian war
Ukrainian militaria from the past
You will also find on this page some antique Ukrainian militaria when available online. Ukraine was the battlefield of WW2 so you will find several WW2 Ukrainian militaria from the German and the Soviet armies.
Your questions about Ukrainian militaria
Is it legal to purchase Ukraine war trophies online ?
As we are an international website, you need to check your national legislation. This said, as all militaria items, most of them are legal to purchase and import to the USA as long as they are not explosive or dangerous. If you have any doubt before acquiring a Ukraine war trophy, please ask your local custom agency.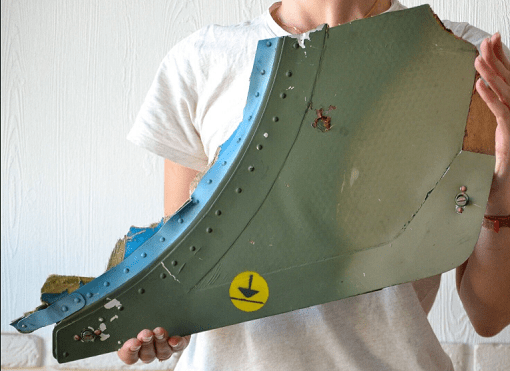 A Ukrainian militaria dealer proposing a Ka-52 Helicopter fuselage part online
Is it popular to collect Ukraine war militaria ?
Yes, the Ukraine War memorabilia collection is very popular at the moment. It is a unique opportunity to find pieces of Sukhoi or Russian helicopters fallen in Ukraine. It is also a way to celebrate the brave Ukrainian resistance and to support Ukrainians who offer these Ukrainian war items online. As Russian soldiers have abandoned many uniforms, helmets and military equipment, there are many Russian militaria items from this war available at the moment.
If you are looking for a specific militaria item from Ukraine, feel free to send us an email and we will see if we can help you find it online.
Top 100 Militaria :
Top 100 Militaria
WW2 militaria
WW1 militaria
US Civil War militaria

Militaria by army :

Militaria by type :