The German helmets from 1935 to 1945 (WW2)
In this blog article, you will discover the various types of WW2 German helmets, their names, their specificities and some tips to distinguish fake helmets, which are a real pain for militaria collectors.
The M35 German helmet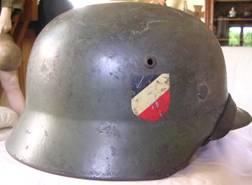 The M35 steel helmet has replaced bolt M16 and M18. Typically, the 1935 helmet received two badges. This being valid for all models (Heer (WH), Kriegsmarine, Waffen SS, Luftwaffe, Feldgendarmerie…). The paints used were a bright apple green. Or brilliant blue for the Luftwaffe. All straps used were made of aluminum. Simple or reinforced strapping. The ventilation eyelets are attached to the hull.
From March 1940, these same 1935 helmets must receive a matte paint. And the tricolor badge must be removed. These operations are then carried out in the factory (total reconditioning) or hand-made by the owner. Factory: new matte paint on the hull and inside. (The helmet is completely disassembled). Staff: new paint only on the hull. The interior of the bomb very often remains apple green. Very important note: some 1935 helmets that have been reconditioned may nevertheless have a 1940 model metal strapping.
The M40 German helmet
As a general rule, 1940 models have only one badge (WH eagle, eagle or Runes). Only the Police and Felgendarmerie could keep the two badges until May 1945. All straps used are made of metal. The chin straps are rounded. The ventilation eyelets are molded in the mass.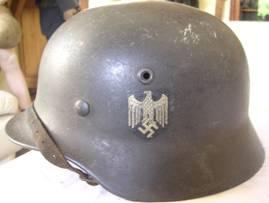 1940 Type1 badge (removal of the tricolor on the manufacturing after March 1940.
Leather and strapping type "1931".
Unreinforced metal strapping.
Apple green paint is omitted for a matt, smooth or granite paint.
The M42 German helmet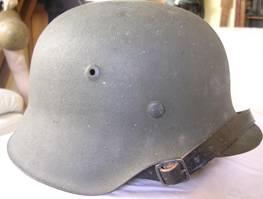 For manufacturing speed reasons and economical reasons, the edges of the helmet are flared. But, as for the M40 helmet, the eyelets are molded in the mass. The chin straps are rounded. The straps are made of metal.
Some camouflage examples on WW2 German helmets
From the Polish campaign, and as the conflict spread, the camouflage of helmets was left to everyone's initiative. Each soldier, or each unit, could improvise their own camouflage system. Camouflaged helmets are usually painted only on the outer shell, sometimes on the inside, but then and very often until the strapping. The interior of the bomb retains its green (WH, KM or SS) or blue (LW).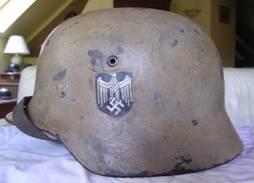 M35 Wehrmacht. Camouflaged sand.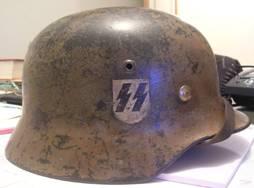 Waffen helmet. Model 35. Refurbished 40
We hope that this article will be useful for militaria collectors. If you collect WW2 German helmets, have a look to our selection in our German militaria page. We display there several German helmets, including some very rare model in great conditions. If you have any questions, feel free to send us an email.
Collecting German helmets is a fascinating hobby because nearly each helmet has a different story, condition, hand-made camouflage and so on, but of course you need to learn all details to avoid buying fake helmets from some stupid militaria sellers.
Militaria-Deal
Top 100 Militaria :
Top 100 Militaria
WW2 militaria
WW1 militaria
US Civil War militaria