Military knives | WW1, WW2, Vietnam war
Our selection of interesting military knives currently available online.
Updated everyday, add this page to your favorites if you are a knife collector.
A selection of military knives for collectors
On this page, you will find our selection of the best fighting knives for militaria collectors. We select them from various military knife providers and trustworthy collectors. Here you will find authentic WW2 knives, genuine WW1 trench knives and also some combat knives from various armies. Feel free to send us an email if you are looking for a specific and rare military knife, we will be happy to help you find it. A rare knife is a great addition to any militaria collection.
BEST MILITARY KNIVES FOR COLLECTORS :

WW2 fighting knives from various armies
WW2 knives are very interesting for their design, beauty and historical weight. We select for you various rare fighting knives like a WW2 German Gravity knife and other interesting German Paratrooper knives. Or some American John Ek Style fighting knife and WWll Western G-46-8 Blue Blade Fighting Knife. And of course, we will also display some WW2 USMC Mark 2 Ka-Bar knife (also called 1219C2) and Camillus combat knives. From time to time, we can also select a rarely offered Japanese Kamikaze short-knife. Soviet Communist era military knives are also very interesting to study and collect.
Are WW2 knives worth anything?
Of course some WW2 authentic knives have a great value. Some WW2 knives can be found for over $1,000. Especially knives from the American, British, German and Japanese armies attract collectors. An M3 Trench Knife from the US Army can be found for around 200 dollars. Look at the listings above to get an idea of market rates.

What knives were used in WW2?
Many types of knives were used during WW2. The most famous are the Ka-Bar knives of the US army. But American soldiers also used US M3 knives. The British army commandos used F-S fighting knives. The German army distributed daggers to most of its soldiers and the Japanese also used different types of knives during WW2. Knives were particularly useful in close combat during WW2, such as in the Pacific Islands between the US Army and the Japanese Army. They were less used in Europe.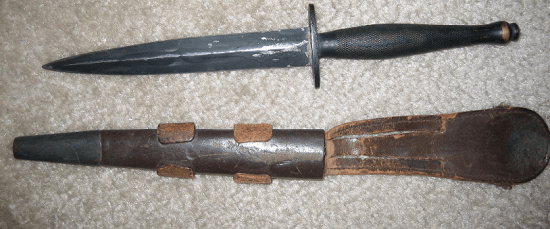 ​​​​​​
US Army knives
We will display here several US Army military knives from various eras. We will select some WW2 Kabar knives, some Vietnam war Bolo knife and some more modern knives from the US Army. And if you prefer antique knives, we will also select for you some rare Bowie knives from the US Civil War.
WW1 Trench knives : a must for any militaria collectors
World War 1 was a very interesting period for fighting knives. Various armies have developed some iconic trench knives whice are now very much sought-after by militaria collectors. For example, the WW1 US Bolo knife, the WW1 British knives and other knives from the French or German armies. WWI was a terrible period for soldiers who used a lot their fighting knives and daggers during assauts.
Fighting knives from various times : Vietnam War, Indian wars, US Civil War
On Militaria-Deal, you will find some rare historical knives like a military bowie knife from the USS Scouts during the Indian Wars. We also display several knives form the Vietnam War : a Randall Number 16 Vietnam era knife, a Vietnam war Sog Special Forces Bolo knife at good price. An antique Civil War Bowie knife is also a masterpiece in any serious militaria collection. From whatever period you are looking for, you will find some knives available on this page. We also display some modern military survival knives here.
How much worth an authentic military knife ?
What is the value of a WW1 trench knife or a US K-bar knife ? Well it all depends of the rarity and the condition of the item. Its historic weight and the demand from collectors will also impact its pricing, but let's give you some precise examples. A Collins & Co Legitimus N°17 Bowie knife Abercrombie Camp marked will be found around $400 on eBay. A US M3 Imperial fighting knife should be around $300. And a WWII US Navy Mark 1 Combat Fighting Knife will be available around $250 depending of its condition. If you don't know how much your military knife worths, feel free to contact us, we will be happy to give you an evaluation.
How to get a military knife from this page ?
You've found a rare WW2 Ka-Bar knife in our selection and you want to acquire it. Nothing easier, just click on it and we will automatically redirect you towards a secured website where you can get it. We source our fighting knife selection from serious suppliers and militaria collectors.
Top Militaria Auctions :
Top 100 Militaria
WW2 militaria
WW1 militaria
US Civil War militaria

Militaria by army :

Militaria by type :