US militaria for collectors
Our selection of US militaria currently available online.
Updated everyday, add this page to your favorites if you collect American militaria.
RARE AMERICAN MILITARIA ITEMS FOR COLLECTORS :

Collectibles from the US Army are very popular among militaria collectors. You will find on this page the selection of the most interesting militaria items from the US Army we have found online.
US militaria collecting : more than a passion !
The US Army being involved in most major conflicts of the 20th and 21st centuries, it is very popular in militaria collections. Veterans are collecting items from the Vietnam War, collectors are looking for WW1 and WW2 US militaria collectibles and people interested in the American history are looking for authentic Civil War items (Confederate bowie knives, cavalry swords...). Militaria-Deal helps you find the rarest US militaria stuff on this page.
A selection of US militaria collectibles
Whatever period of American militaria you are interested in, you will find rare pieces on Militaria-Deal. Here is a summary of what you will find here.
WW1 US militaria
The U.S. Army sent millions of soldiers to France during the First World War. WW1 US military items such as the American bayonet M1917 or American helmets of the First World War are very much in demand. Some beautiful American WWI medals are also very sought after. You will also find some uniforms, some watches and other interesting WW1 items in our selection.
WW2 US militaria
The impressive American victory in World War II against the German and Japanese armies changed the course of history. The Second World War continues to make a lasting impression 80 years later. As a result, collectors of rare WWII US militaria are very numerous. You will find on this page some WW2 M1 Airborne Paratrooper Helmets, some WW2 uniforms or US Marine Corps Raiders patches.
Civil War militaria
The American Civil War is a founding period in American history. It is not easy to find authentic military objects dating from the Civil War and collectors are very numerous, especially in the United States. On this page you will find Confederate officer's swords, uniforms and kepi, buttons, bowie knives and cavalry swords.
US military helmets
Military helmets are highly prized by militaria collectors, especially American helmets from World War I and World War II. The most popular American helmets are undoubtedly the US M1 helmets of World War II.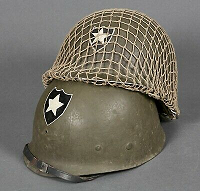 US M1 helmets
You may also find here some WW II USN M-450 flight helmets and other rare helmets on this page. If you are looking for a specific US helmets, please send us an email and we will try to help.
US military medals
Medal and order collecting is very popular too. If you collect US military medals from WW1 or WW2, you should have a look to our page dedicated to rare military medals. You will find some rare medals like an original US Civil War Iron Brigade medal of the 1st Corp Army of the Potomac and other interesting military medals from various armies. We also displayed here a historic 1898 U.S. Navy West Indies Campaign medal !
.
Top 100 Militaria :
Top 100 Militaria
WW2 militaria
WW1 militaria
US Civil War militaria

Militaria by army :

Militaria by type :